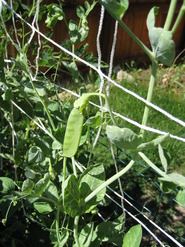 April showers bring…great gardens! Now is a perfect time to pull out the gardening gloves, dust off the wheel barrow and tools, and get down and dirty with nature. Why? It depends on what you're looking for exactly, but one one thing is guaranteed, you'll find something you need. Stress relief, meditative calm, exercise, connection with the earth, fantastic flora and delicious, nutritious vegetables. You'll be rewarded for your efforts tenfold.
"There are so many reasons to garden," says Carol O'Meara, CSU Extension Agent specializing in Horticulture Entomology. "It's physical activity, and it's weight bearing. It incorporates stretching, too. When it comes to the vegetable yields, the variety you can grow in a garden well exceeds what can be purchased at the grocery store. The flavors you can experience are really awesome. People regularly experience epiphanies with their home-grown vegetables; it's like eating a completely new food. The freshness and quality you can get from your own garden, literally right there at your fingertips, is astounding. You don't get more local than your own backyard."
An impressive body of continually growing research upholds the benefits of gardening. Studies highlight it as a powerful means to combat stress, reverse depression and boost cognitive function, all in turn providing a valuable boost to our immune systems. What's more, it gets your blood and body moving.
When it comes to starting out in gardening, don't be daunted. You don't need a green thumb, or even a lot of space. You can garden in the back yard, or containers. No matter what, you'll be giving yourself the gift of fresh air and sunshine, a chance to work with your hands and either turn off your thoughts or be alone with them. Make it a peaceful solitary experience, or a shared one. Spread the work among the whole family; notice the scents, the sounds, the activity of insects and birds. Observe the way the dirt crumbles, the grass bends. Whatever vibrant yields come next, the fresh beginnings make for a great start.
Here, Carol shares suggestions for getting started growing:
Early April (direct sow, outdoors): peas, spinach, lettuces, beets
Mid-to late April: parsnips, carrots, cabbages, broccoli, potatoes (*potatoes can be a little more challenging)
Don't be discouraged if the weather doesn't cooperate. Don't work soil when wet; adjust for weather as needed and wait for it to dry out a little.
Always go with short season varieties. We only have 150 growing days here.