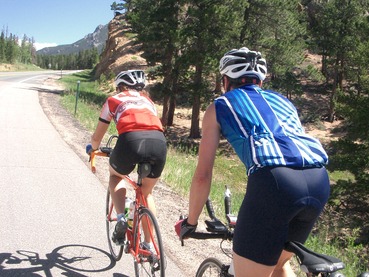 We love you, Boulder County, in oh so many ways. We love our mountain views. We love our trail networks, and the commitment to improving, rebuilding, and protecting them. We love the sustainable focus, the recreation opportunities, and the way so often the most cherished set of wheels is the one with spokes. June is upon us, and some (lots of) days, it's all about the bike.
There are countless reasons to take up cycling, from the health and fitness benefits to the reduced carbon footprint to the lightened gas budget. But who are we kidding? You already know that. The state of Colorado is renowned, across the nation and indeed the globe, for premier cycling opportunities. From mountain passes to safe, family-friendly cycle path networks; elite teams and numerous tours, support for the sport is evident at every turn. Celebrate and share your enthusiasm throughout the month, officially designated 
Bike Month
 in Colorado.
It doesn't take long to get a feel for Longmont's bike-friendly culture, with its 158 miles of greenway paths and bike lanes aiding healthy and enjoyable access to destinations, including the town's three bike shops. June offers numerous spirited events and occasions to get out on two wheels. This year's
 Bike to Work Day
, for instance, to be held on Wednesday, June 24th, is always a popular draw. The event, features tasty breakfast stations, T-shirts, and prizes, and is open to everyone. Best of all, the commutes can count on being abuzz with camaraderie. In fact, participation has steadily risen since 1995. Find Breakfast and Bike Home stations throughout Colorado at 
biketoworkday.us
.
While June may be a month of cycling celebration, we all know we it doesn't take much excuse for us to get out and enjoy the local scenery the way we can on a bike. Lucky for us, we've got plenty of local resources and opportunities to keep us maintaining our wheels and spokes throughout the year. Here's a sampling of a few things we have to look forward to in the weeks and months ahead!
Longmont Bike Nights. Colorado's oldest, largest weekly family-friendly cruiser ride is back for its 11th year! Meeting under the flags at the east end of Roosevelt Park at 6:30 pm, Bike Nights are a friendly, leisurely way to connect with others while touring Longmont's best tree lined neighborhoods and greenways, about 6 miles or so for each hour-long ride. This year's Bike Night season also features "Pre-Bike Nights" at various establishments, giving cyclists a chance to hang out and chat before the ride. "If you're old enough to ride and young enough to stay on–you're probably just right for Bike Night!" says Bicycle Longmont President Ryan Kragerud.
G'Knight Ride. 
You won't want to miss the 5th annual 
G'Knight Ride
, scheduled for June 13th. Presented by Bicycle Longmont, this incredibly fun event is a rousing celebration of cycling, and cyclists of all ages and abilities. The festival includes various routes, food trucks, activities for kids, and great schwag from super sponsors.
StART Rides. Feel invigorated and culturally inspired–take part in Art in Public Places bike tours! Bike tours are generally 90-120 minutes in duration and utilize multi-use trails as well as roads to view public art. Each bike tour is is different: you'll view different artwork, the routes vary, and multiple tour guides/leaders offer unique perspectives! Bike tours ride at a comfortable and conversational pace, 6 to 15 miles.
Free group rides and training from Girls and Gears/Pink Pedals
. "I do pretty much anything related to bicycles except sell them and do maintenance on them," says Lauren Greenfield said, long-time cyclist and founder of Pink Pedals, a women's cycling group. "I get people more comfortable on their bikes and better prepared to ride." Pink Pedals offers bicycle education, maintenance skills, route design, private lessons, community, and anything you could ask for when it comes to bikes. This includes regular FREE 90-minute instructive rides for women in and around Longmont. Check 
the Pink Pedals website 
for ride schedules for beginners on up!
Tour de Taps.
 Pink Pedals has teamed up with the local chapter of Barley's Angels, a national network of women who love beer, to combine a love of biking with social camaraderie and appreciation for our local breweries. Check our 
LiveWell Longmont calendar
 and the Pink Pedals website regularly for news on upcoming bike tours inclusive of well-timed stops for tastings at local breweries like Shoes and Brews, Left Hand Brewery, Cyclehops, and Longmont's Tasty Weasel.
The City of Longmont has many bike trails and bike-friendly routes.  Whether you're cycling for fitness, stress reduction, cool gadgets and toys, or simply the pure freedom of fresh air on two wheels, you have plenty of options. Be safe, have fun, and get out there!